On a rainy day in 2004, I went on what I thought was a typical movie date with my mom (aka the best kind of movie date there is) to the Sandusky State Theater (which smelled like mothballs and typically hosted obscure cover bands, but sometimes showed movies). That rainy movie day turned out to be a transformative moment — because as soon as the rom-com magic that is "13 Going on 30" began to unfold before my 8-year-old eyes, I was hooked, awe-inspired and mesmerized.
At the time, there were a lot of references in the movie I didn't understand (i.e. I had no clue what a nose job was until I re-watched it many years later) — but one thing I did know was that I felt a connection to Jenna Rink (Jennifer Garner), the teen who woke up after her 13th birthday to realize her wish (to skip to age 30 and live in NYC as a magazine editor for Poise) had come true.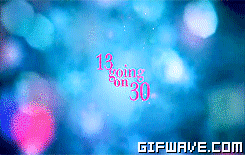 I've always loved "13 Going on 30" (and the expertly curated soundtrack, which, might I add, is in my car CD player), but when I was younger, I especially loved dreaming about the future, so the whole premise behind the film was brilliant to me. I explicitly remember drawing pictures of what I thought I would look like at age 18 or 20, and, as corny as it sounds, I can't think of a time when I wasn't imagining myself as a grown-up.
Fast-forward to the here and now, and I'm a 21-year-old who has a chronic case of "I-Look-Older-Than-My-Age," a serious phenomenon that causes Target cashiers to refer to me as "ma'am." It also means that I didn't experience the supposedly magical moment of showing my ID when I ordered a drink on my birthday (because somehow, even in my college town, I wasn't carded).
With every birthday comes the hope that you'll wake up and know something you didn't know the day before, and while I can't say my first month of being 21 has given me a sense of all-knowing wisdom, I've found that there's something unique about being at the beginning stage of my "defining decade" — but still just taking it day-by-day in the college bubble.
I'm at a weird intersection somewhere between the here and now and the rest of my life. It's all clearly illustrated by the combination of Internet tabs I have open; one tab is my class schedule for next semester, the next tab is my Spanish homework, another tab has a running list of article ideas, and right next-door to that tab is a website with apartment listings and prices for Boston or whichever city is on my mind at the time. (What can I say? I'm just doing my research!)
Of course, I think about the future a lot — where I see myself in X years, my career path, things I'd like to accomplish in the (near and far) future — but these goals and wishes aren't just bullet points on a checklist or empty boxes waiting to be filled with an 'X.'
I'm a big fan of making lists (I rarely step into Trader Joe's or Aldi without a scribbled piece of paper reminding me to get almond milk and avocados.), but I think my 20s are more than a laundry list of things I want to accomplish or happen.
If the 20s really are *the* defining decade, I can only hope for the best as I continue to do what I love, work toward goals that excite me and surround myself with people who add something to my life.
And for now, you can find me somewhere between happy, excited, a little overwhelmed and head-over-heels for what's to come.
---
Here's to life-changing rom-coms that inspire entire blog posts (and to everyone who keeps turning the pages of The Darcy Diaries).
Until next time,
Darcy